Nha Trang is not only famous for the shimmering sandy beaches, the luxurious and qualified resorts and the bustling nightlife but also for the commercial activities in local markets as well as shopping malls. Coming to Nha Trang, you for sure want to bring home some specific things in this landscape as a memory of this beautiful city. In our discovery today, we will help you with the typical souvenirs of Nha Trang, and in addition, the recommended places to go
shopping in Nha Trang
.
I. What to Buy in Nha Trang?
1. Fine Art Handicrafts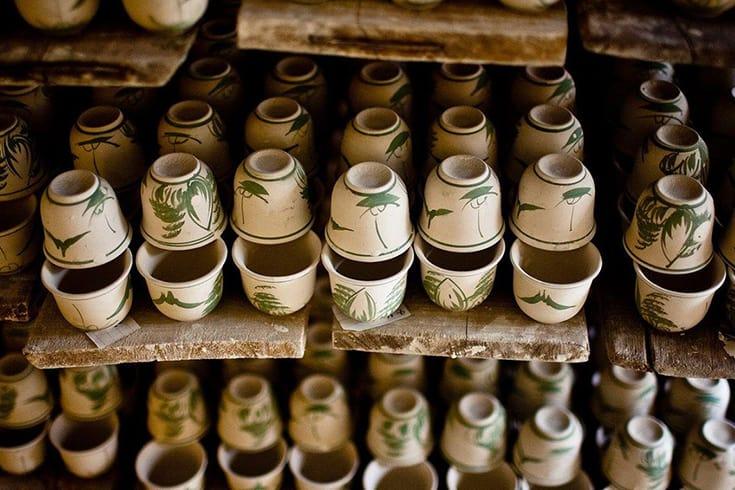 The fine art handicrafts in Nha Trang certainly impresses you with the diverse categories and eye-catching designs. Most of the handicrafts here take inspiration from Champa, an ancient kingdom existing there before the nineteenth century, so it is not difficult to realize the meticulous Champa patterns on the beautiful item. The money you have to pay for this kind of souvenir is affordable and reasonable, so this is one of the best selections for you.
The handicraft things that you can find there include ceramic products such as plates, bowls, bottles, vases as well as unique items made from shells, rattan, bamboo, eggshells and clay.
You can find fine art handicrafts in some charismatic shops such as My Village on Hung Vuong Street or Bau Truc Pottery on Hoang Hoa Tham Street.
2. Pearls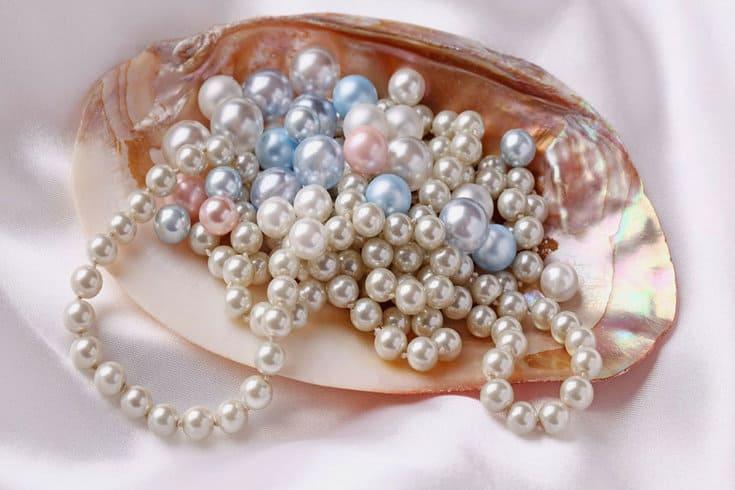 You can find pearls in most of the cities in the coastal line of Vietnam; however, pearls in Nha Trang are still unique because the clams that form pearls are grown naturally in the greatest local condition of Nha Trang ocean. The big round pearls are used to make gorgeous necklaces, bracelets, brooches and many other accessories. However, the price of pearls is not very pocket-friendly; you have to pay at least 2,000,000 VND for each item, so you had better consider your budget carefully.
Although pearls are on sale in a lot of local shops, most of which may have poor quality. To avoid buying imitation pearls, you should go to some prestigious shops in Nha Trang City like Hoang Gia Pearl, Saigon Pearl and Long Beach Pearls.
3. Clothing and Fabric
Beside handicrafts and pearls, tailor-made clothes is the next thing that you are recommended to spend your budget on. The tailored clothing in Nha Trang has a good reputation for a long time because of its high quality, good-looking designs along with the competitive prices. The options for your clothing design are shown in the catalogue or you can buy off-the-peg clothing that is always available in every shop.
In addition, should you would like to buy fabric for your relatives at home, you can find it in the tailor-made shops here. There are many kinds of items made of brocade like handbags, scarves, hats and purses in unique patterns of the local ethnic minority.
There are plenty of recommended places for you to buy clothes and fabric: Hoang Yen Tailor, Silk and Silver Nha Trang, The Bambou Company, Senmi Nguyen, Him Closet, Dam – Vay Nha Trang.
4. Specialties
4.1 Mango Rice Paper (Banh Trang Xoai)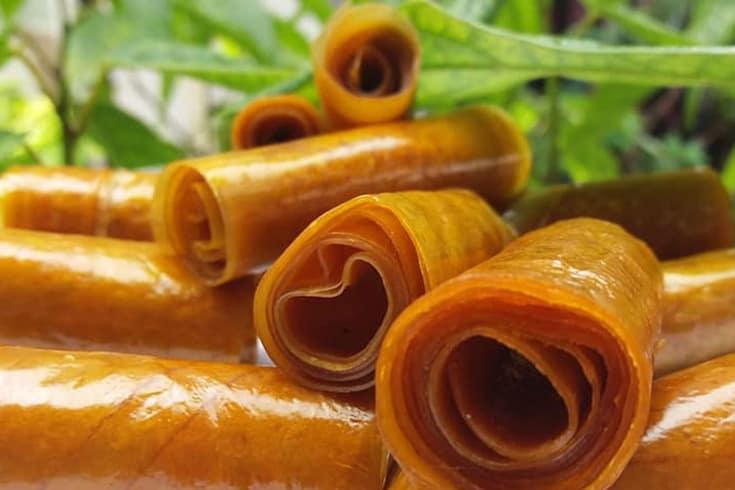 Though mango rice paper originates from Cam Ranh City, Khanh Hoa Province, it is still one of the most renowned specialties that is sold widely in Nha Trang. This democratic specialty is made from the best local mango in Cam Ranh. After the manufacturing process, the finished products are the medium rectangular pieces of mango rice paper wrapped in nylon bags for preservation.
The good quality mango rice paper has the yellow-brown color which is not too dark or too light, the combination taste of sweet and sour at a medium level, and the typical natural aroma of mango. Mango rice paper is the favorite nosh of many people, especially students, because it can be found in all the corners in Nha Trang with a quite cheap price.
You can buy mango rice paper at the price from 70,000 VND to 120,000 VND for each kilogram in Dam Market, Xom Moi Market, 11E Thai Nguyen Street and 127 Yersin Street.
4.2. Fresh and Dried Seafood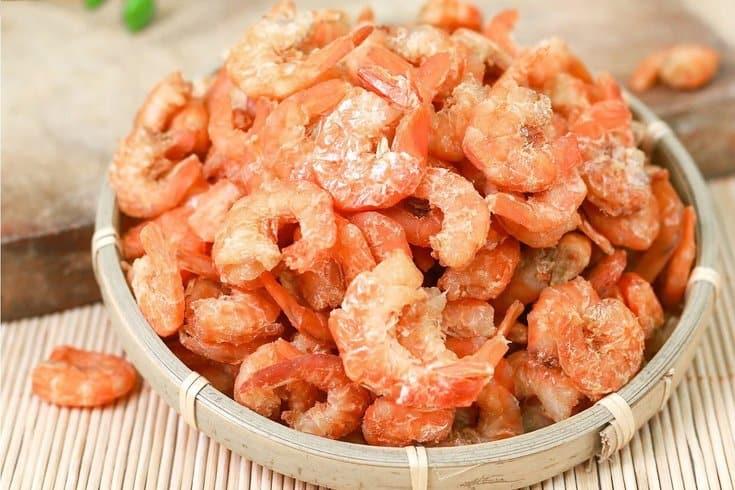 Nha Trang is favored by nature with a variety of marine species in general and seahorses in particular. The dried seahorses there have long been recognized in the Eastern medicine as a valuable remedy with miraculous healing effects, especially good for women's health.
It is quite easy to use dried seahorses as medicine. The most common way is to soak seahorses in wine to drink in order to foster health. Dried seahorses can also be combined with many different herbs to create good remedies for kidney, liver and digestion.
The dried seahorses are sold in pairs, depending on the size of the seahorse, ranging from 200,000 VND to 500,000 VND for each pair.
Half-dried cuttle-fish is a unique seafood specialty, this is a special form between fresh and dried cuttle when the cuttle is dried outside in one or two sunny days. The thing that makes half-dried cuttle-fish more tasty than the fresh or dried one is that the cuttle meat still preserves its natural sweet and a certain amount of water which is not too much or too little. There are many types of cuttle, but the most popular and delicious half-dried cuttle is made from cuttle-fish, which meat is thinker, fresher and sweeter.
Half-dried cuttle-fish is not grilled on gas or alcohol fire but charcoal fire, which helps to keep all the specific flavor of the cuttle. It is an ideal combination when sipping grilled cuttle, drinking some cups of beer and feeling the taste of Nha Trang sea.
The price of half-dried cuttle-fish is quite varied, depending on the size of the cuttle, which ranges from 350,000 VND to 500,000 VND for a kilogram.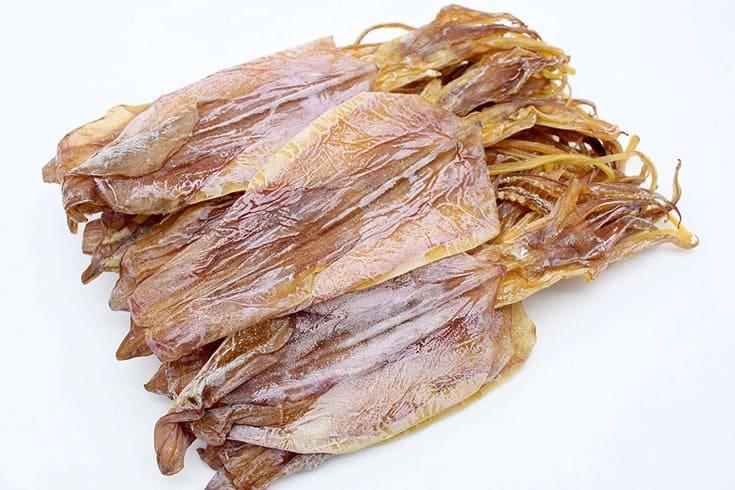 Dried squid is another specialty made from cuttle of Nha Trang ocean. The dried squid must be the original genuine squid that is caught by local fishermen in the off-shore water. The squid then is dried naturally in sunlight until it is completely dry, and the meat is fragrant, sweet, soft and less chewy.
Dried squid can be grilled as half-dried cuttle but it is preserved longer and by easier way. Therefore, it is among the most popular specialties bought by tourists when coming to Nha Trang.
The price of dried squid is a little bit more expensive than half-dried cuttle, ranging from 500,000 VND to 700,000 VND each kilogram.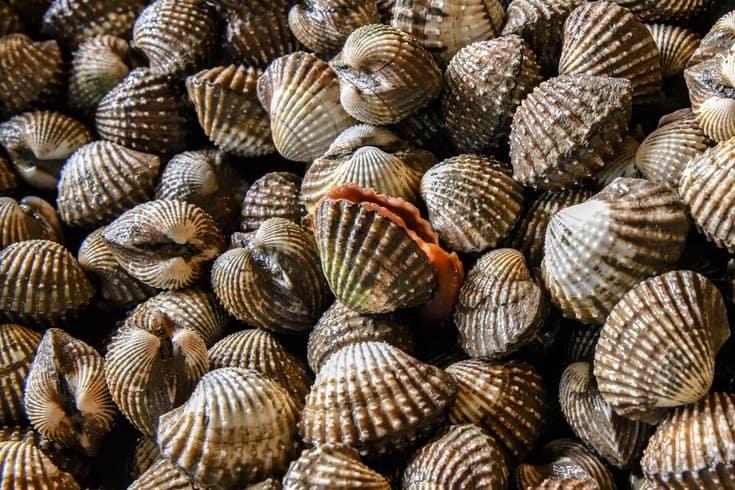 Like many cities in Central Vietnam, Nha Trang is also famous for the blood cockle, which is caught in Thuy Trieu lagoon nearby. Thuy Trieu blood cockle is a famous Nha Trang specialty dish because of its delicious taste and high nutritional content.
Blood cockle is often processed by locals into many delicious dishes such as grilled, steamed, tamarind sauce, salads or porridge. Whatever you do, you should not cook to a turn but eat when it is rare to feel the full sweetness, aroma as well as the taste of the local beach.
The price of Nha Trang blood cockle ranges from 100,000 VND to 300,000 VND a kilogram, depending on the size of blood cockle.
The fresh and dried seafood in Nha Trang can be found in all the markets there, but you are advised to buy them in Xom Moi and Binh Tan market in the morning for a good price and fresh seafood.
4.3. Nests of Salanganes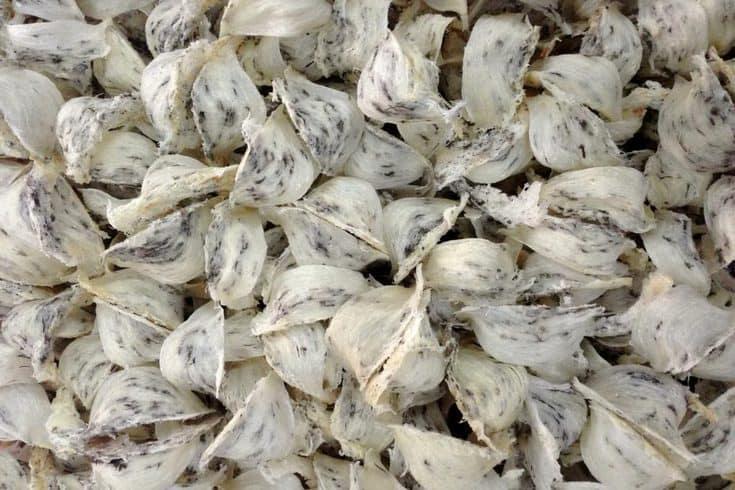 With the ideal natural conditions, the small islands in the coastal line of Nha Trang is the largest concentration of salanganes. The salanganes' nests here are considered to have higher nutritional value than those in other places.
Salanganes' nest soup contains a high amount of energy and is easy to be absorbed by the human body. Using this product regularly has positive effects on blood, cleaning lungs and respiratory organs, reducing allergy symptoms, increasing body resistance and physical strength, balancing metabolic processes in the body, stimulating digestion and anti-aging cells.
Due to these effects, nests of salaganes in Nha Trang are valuable presents, especially for the old. However, salanganes' nests are sold at astronomical prices, which is from 3,000,000 VND to 20,000,000 VND. If you still want to try this specialty, you should buy salanganes' nest drink with the cost under 100,000 VND.
There are some prestigious places that you can buy authentic local salanganes' nests such as Khanh Hoa Salanganes' Nest Store at 248 Thong Nhat, An Nam Salanganes' Nest Shop, Khang Viet Salanganes' Nest and Au Viet Company.
4.4. Grilled Meat Roll
Nha Trang grilled meat roll is a dish that you cannot miss to buy when having a trip to this city. There are two types of meat roll, grilled meat roll and fermented meat roll. While people often try grilled meat rolls in local food stalls, fermented rolls are favored to bring home for friends and relatives.
The price for a dish of grilled meat roll is around 40,000 VND, and it is for sure a memorable experience for you when exploring the local cuisine.
You can try grilled meat roll in many food stores in Nha Trang at 15 Le Loi Street, 25 Le Hong Phong Street, 39 Nguyen Thi Minh Khai Street, 16B Lan Ong Street and 50 Thong Nhat Street.
5. Souvenirs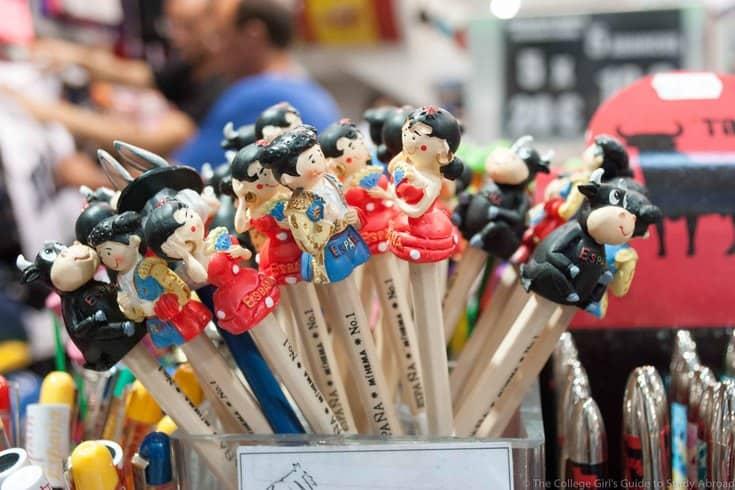 Coming to Nha Trang, you should not forget to buy some souvenirs in any markets or souvenirs stores there. The items that are typical for this city include local fine art handicrafts, pottery, XQ embroidery paintings, handmade bracelets and necklaces, postcards and paintings with various types, colors and prices.
These souvenirs can be bought in many shops like Fine Art Shop of Khanh Hoa Tourism Company, Ngoc Bich Fine Art Store, Champa Flower Art Shop, Apsara Handmade Store, Dam Market and Xom Moi Market.
II. Where to Shop in Nha Trang?
1. Dam Market
Location: Van Thanh, Nha Trang City
Opening hours: 05.00 – 18.30 daily
What to buy: dried and fresh seafood, local souvenirs, fabric, local specialties
Highlights: This is one of the most crowded markets in Nha Trang, the commercial symbol of this city with its unique architecture. There are many kinds of goods, from food to clothes and souvenirs for you to buy. If you want to go shopping in Nha Trang, Dam Market is the first suggestion for you.
Tips:
The deeper you go into the market, the cheaper the price is.
Don't hesitate to bargain if you don't want to buy a normal item with an inflated price.
Keep an eye on your money sack, mobile phone or valuable accessories because there may be many pickpockets here.
2. Nha Trang Center
Location: 20 Tran Phu Street, Loc Tho Ward, Nha Trang City
Opening hours: 09.00 – 22.00 daily
What to buy: high-class jewelry, perfume, cosmetics, accessories, sport equipment, apparel and fast food.
Highlights: Nha Trang Center is located on Tran Phu Street, the most bustling area of this city. It is a modern shopping mall with four floors where you can find almost everything with reasonable prices. There is a cinema for you to enjoy a movie and KFC and Lotteria Store for fast food lovers.
3. Nha Trang Night Market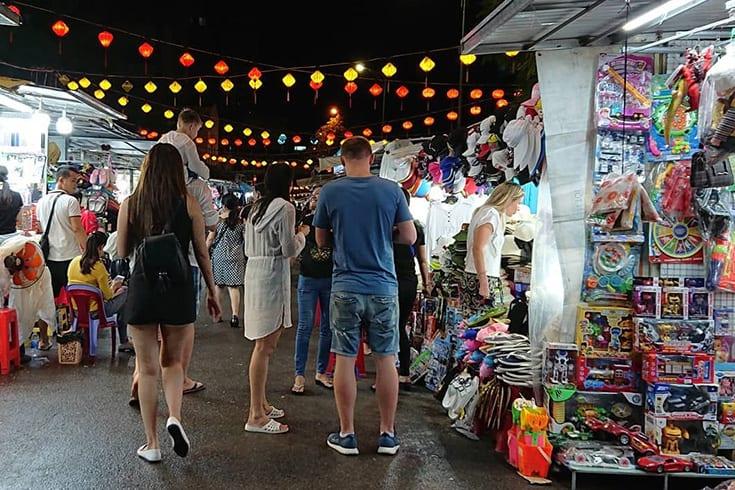 Location: 46 Tran Phu Street, Loc Tho Ward, Nha Trang City
Opening hours: 19.00 – midnight daily
What to buy: local handicrafts, street foods, clothing, souvenirs such as embroidery, silk, ceramics, postcards, scarves, garment
Highlights: The shimmering in Nha Trang Night Market makes it an ideal destination for the young to take gorgeous photos. This is also a place for discovering local specialties and noshing due to a variety of street food stalls. The souvenirs there are quite eye-catching and plentiful.
Tips:
Remember to ask the price first when you want to buy a product.
Be on the alert with all of your belongings because the pickpockets may conduct their crime activities at any time.
4. Vinh Luong Market
Location: Highway 1A, Vinh Luong, Nha Trang City
Opening hours: 05.00 – 19.00 daily
What to buy: fresh seafood, vegetables, fruits, meat, local dishes
Highlights: Coming to Vinh Luong fishing port in the early morning or late afternoon, you can take bustling images of a fishing port with a scene of buying and selling, small trucks coming to carry the fish, boats scrubbing tools and preparing for the next voyage. This is a place where you can buy fresh and dried seafood at cheap prices.
Tips:
Early in the morning and late in the afternoon are the two most suitable times for you to visit Vinh Luong Market.
5. XQ Hand Embroidery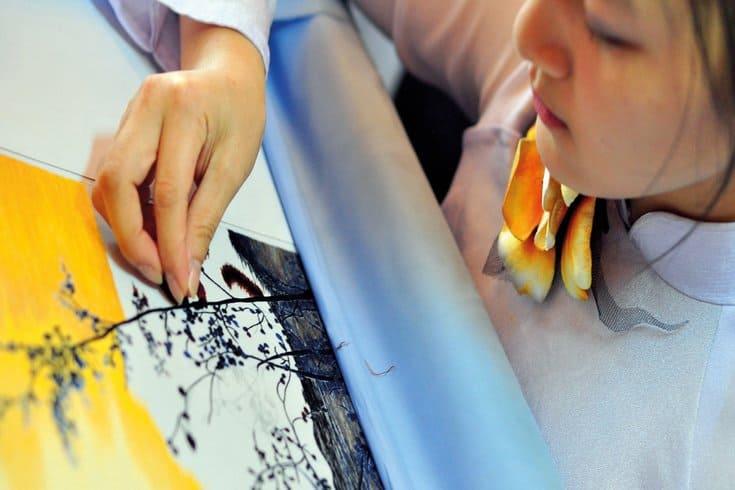 Location: 64 Tran Phu Street, Loc Tho Ward, Nha Trang City
Opening hours: 08.00 – 18. 00 daily
What to buy: hand embroidery paintings on silk
Highlights: Famous for its sophisticated hand-embroidered paintings, XQ is a destination for those who love culture, or want to find a feature of Vietnamese fine arts: hand embroidery. The peaceful space of XQ will bring you the feeling as in a Vietnamese village in the countryside right in the center of a crowded city.
Tips:
The embroidery paintings there are very expensive, you should buy only when you don't have a tight budget.
6. Xom Moi Market
Location: 49 Ngo Gia Tu, Tan Lap, Nha Trang City
Opening hours: 6.00 – 17.00 daily
What to buy: souvenirs, dried delicacies, dried seafood such as shrimp, squid, seaweeds
Highlights: Along with Vinh Luong Market, Xom Moi Market is also the biggest place to buy seafood. This market is divided into four main parts selling different things, including the seafood market, the dried food area, souvenir area and food stalls. Because it mainly serves local people, the price there is quite reasonable.
Tips:
Although Xom Moi Market has an extremely convenient location which is easy to go, you also need to pay attention to one-way streets.
7. Vinh Hai Market
Location: 2/4, Vinh Hai, Nha Trang City
Opening hours: 6.30 – 18. 00 daily
What to buy: clothes, vegetables, fresh and dried seafood, local specialties
Highlights: As one of the markets with convenient location near crowded places and schools, this market has become a place of trading diverse goods in Nha Trang. Vinh Hai Market is popular not only in local residents but also in international visitors. The market is also known as the delicious food paradise, especially for students.
8. Maximark Nha Trang
Location: 60 Thai Nguyen Street, Nha Trang City
Opening hours: 08.00 – 22.00 daily
What to buy: cosmetics, jewelry, high quality clothes, shoes, fresh food, processed food and fast food.
Highlights: Maximark is one of the largest and the most modern and spacious retail centers in Nha Trang. This is a modern shopping center with four floors, where people can buy a variety of things from fresh food to clothing, cosmetics, accessories with the cheaper prices in comparison with other shopping places.
9. LOTTE Nha Trang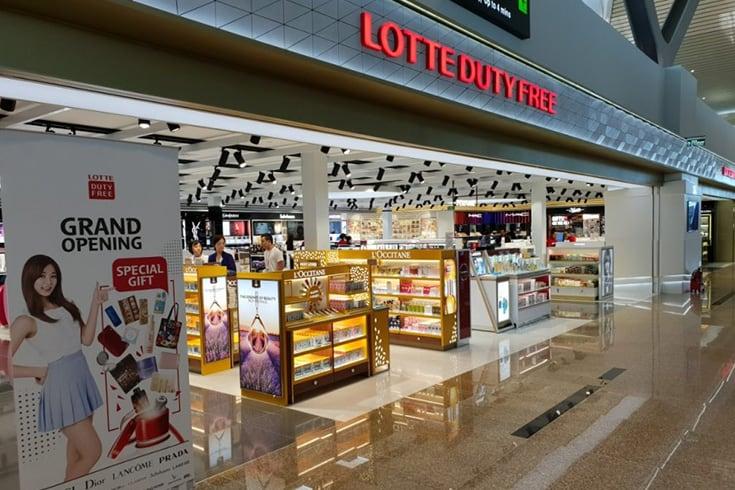 Location: No. 58, 23/10 Street, Phuong Son Ward, Nha Trang City
Opening hours: 08.00 – 22.00 daily
What to buy: fresh meat and vegetables, fruits, cosmetics, clothes, fast food.
Highlights: LOTTE Nha Trang gives you a lot of choices with a full range of products from clothes, food, cosmetics and so on. Besides, in this shopping center, you can enjoy Korean, Vietnamese and European dishes in different spaces, which is a memorable experience for you when coming to this destination.
Have you been satisfied with all the above information about shopping in Nha Trang? We hope that the details may be of some help to you when you go to shop there. Don't forget to share with us your memorable moments as well as your feelings about the journey!